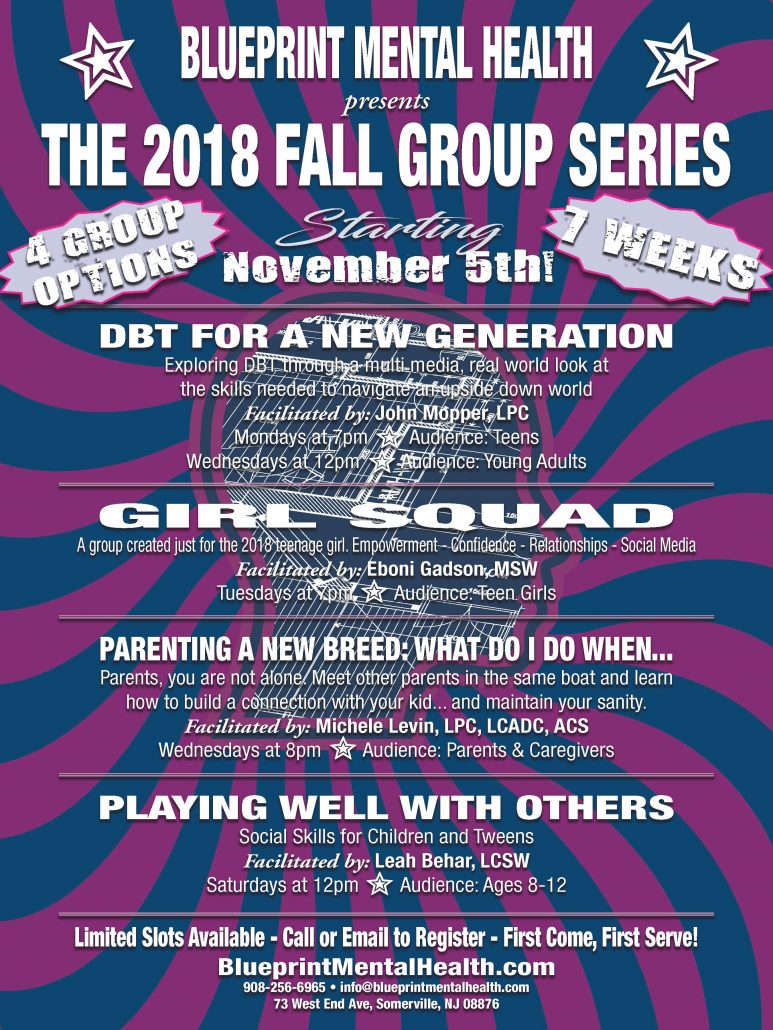 Blueprint Mental Health Presents The 2018 Fall Group Series
Blueprint is excited to announce our 2018 Fall Group Series! We will be running four different groups on four separate nights. 4 GROUP OPTIONS Starting November 5th! Each group is one hour long and will run for seven weeks. Limited slots available/ First come, First serve. Here's what we got going on:
DBT FOR A NEW GENERATION
Exploring DBT Through A Multimedia, Real-World Look At The Skills Needed To Navigate An Upside Down World
Facilitated by: John Mopper, LPC
Mondays at 7 pm Audience: Teens
Wednesdays at 12 pm Audience: Young Adults
Limited Slots Available – Call or Email to Register – First Come, First Serve!
GIRL SQUAD
A Group Created Just For The 2018 Teenage Girl. Empowerment – Confidence – Relationships – Social Media
Facilitated by: Eboni Gadson, MSW
Tuesdays at 7 pm Audience: Teen Girls
PARENTING A NEW BREED: WHAT DO I DO WHEN…
Parents, You Are Not Alone. Meet Other Parents In The Same Boat And Learn How To Build A Connection With Your Kid… and Maintain Your Sanity
Facilitated by: Michele Levin, LPC, LCADC, ACS
Wednesdays at 8 pm Audience: Parents & Caregivers
PLAYING WELL WITH OTHERS
Social Skills for Children and Tweens
Facilitated by: Leah Behar, LCSW
Saturdays at 12 pm Audience: Ages 8-12
These groups fill out quick, so hurry up an fill out this contact form so we can answer any questions you have and then go ahead and get you registered. Can't wait to speak to you!
Blueprint offers a wide variety of outpatient groups for children, teens, young adults, and parents. Groups are a great addition to individual therapy and also a great way to improve social skills. Give us a call to find out what groups are currently available.
Groups

DBT (but not like you're used to)
Process
Parent Process
DBT Skills Training for Parents
Social Skills