At Blueprint, we have hand selected the most authentic and clinically driven therapists on the planet! We are a comprehensive team that provides the absolute highest quality of clinical care. While we all have our own specialities, we all take a proactive and real world approach to counseling. We meet regularly as a team and provide feedback to each other on every single client that comes through our practice. So while you will have your own individual therapist that will be selected based upon your needs, know that you have an entire team of clinicians working to ensure you have the support that you need on your journey. We look forward to seeing you at 73 West End!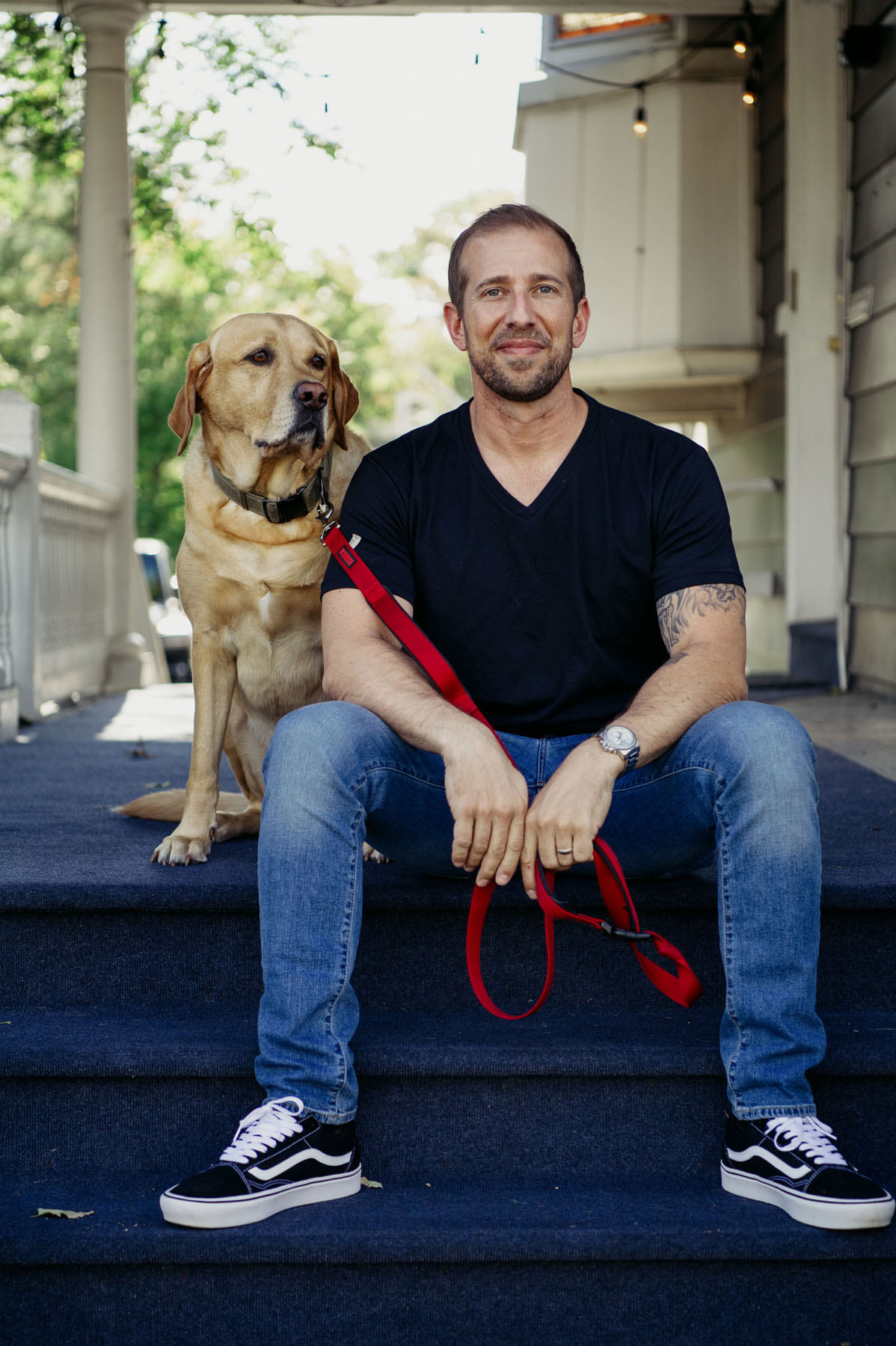 JOHN MOPPER
LPC. Co-Owner / Therapist
Meet John
John Mopper spent about 5 years working in the music industry as an entertainment publicist and manager. After witnessing the effects the pressures and demands of this industry had on the well-being of the young people he was working with, John decided to switch gears and turn his focus toward the study of mental health. After receiving a graduate degree in Clinical Mental Health Counseling, he began working for one of New Jersey's largest Partial hospitalization facilities in their adolescent and young adult programs. While working in these programs, John was foundationally trained in Dialectical Behavioral Therapy (DBT) and was a primary therapist on their DBT adherent team. Throughout his time on this team, he visited over 60 schools in New Jersey and conducted trainings for school counselors on the use of DBT in a school setting. John's approach to DBT has evolved over the years and he now prides himself on presenting a "real world" and fun perspective to an approach that can be somewhat dry at times. In 2018, John merged his practice with his wife, Michele, who now co-owns Blueprint with him. In his free time, he enjoys walking his Yellow Labrador, Toby (Blueprint Therapy Dog in Training) around Somerville where they live, cooking and checking out new restaurants.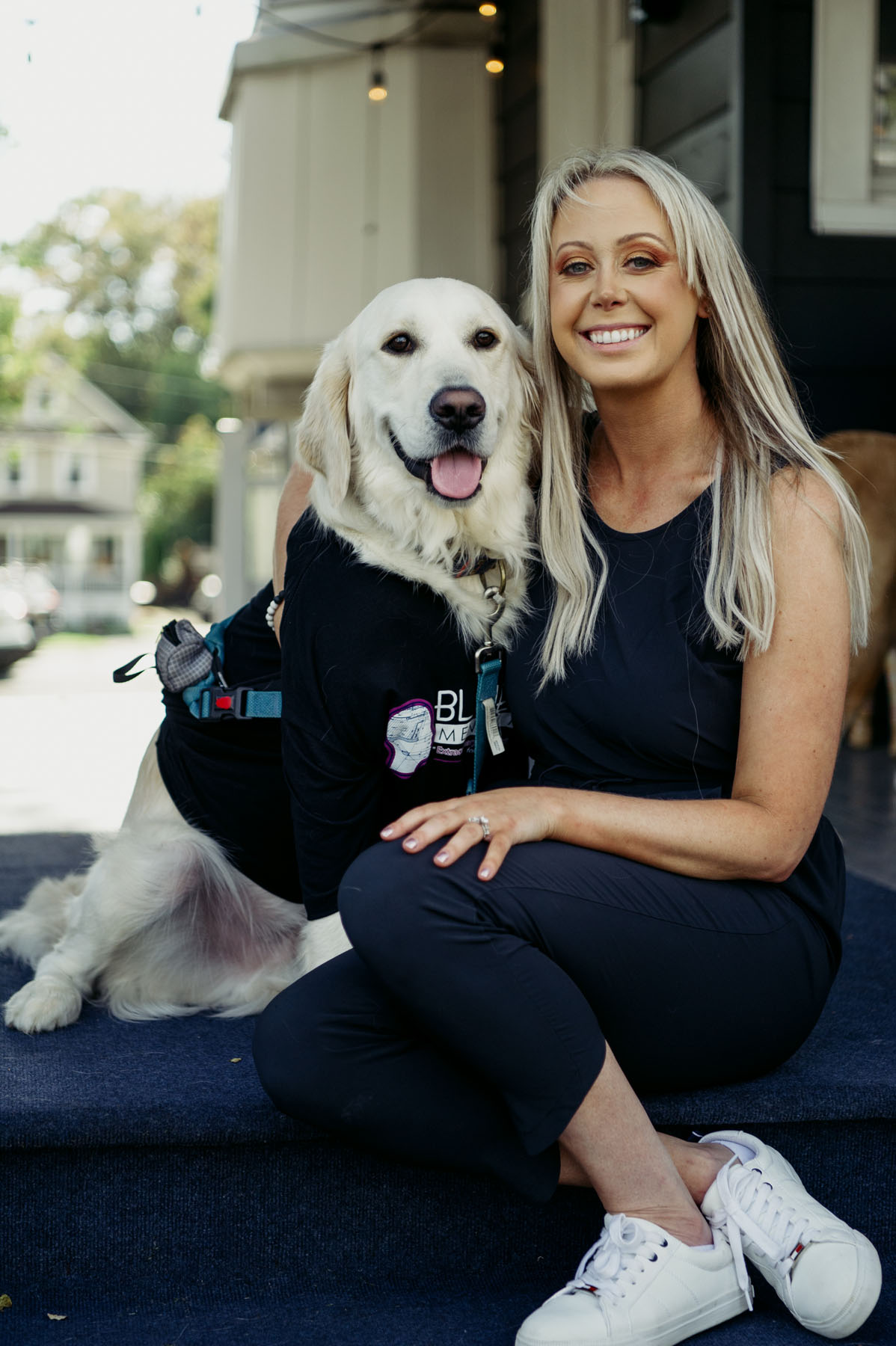 MICHELE MOPPER (LEVIN)
LPC, LCADC, ACS, SAC. Co-Owner / Therapist
Meet Michele
Michele is the co-owner of Blueprint along with her husband John. Prior to Blueprint, Michele spent six years at one of the largest child and adolescent outpatient programs in New Jersey, moving through various clinical and supervisory roles including Program Director. Through her experience Michele found herself gravitating towards family therapy and specifically helping parents to better understand their kid's behavior while strengthening the family relationships at home. She went back to school in 2015 to train at the Ackerman Institute for the Family in NYC and since then has continuously expanded her expertise to include speaking engagements, providing professional trainings to clinicians, and most recently accepting an Adjunct Professor opportunity within Kean Universities' Graduate Mental Health Counseling Program. She supervises other clinicians and together she and John oversee all of the clinical operations at Blueprint.
Clinically, Michele is the jack of all trades. While she still sees teens and young adults individually, her work is now more geared towards providing family therapy, parent coaching, and couples therapy (specifically, couples with kids). When kids are struggling, they often shut down or act out which leaves a parent feeling lost as to what's happening with their kid and how to talk to them. When working with Michele, she helps parents to better understand what's driving their kid's behavior and identify patterns within the family that often fuel anger, sadness, or resentment, while at the same time helping parents to get on the same page and improve their own relationship with each other. She helps people talk to each other (instead of at each other) differently so that they all feel listened to and understood. Basically, she helps people like each other again. Her sense of humor, directness, and ability to really join in with the families she works with helps people to feel comfortable to be honest with what's really going on at home.
Working with Michele also means working with Charlie, her Golden Retriever sidekick. When he is at Blueprint he is, literally, always at her side and typically steals the show.
When she's not in the office, you'll find her watching Friends (the sitcom, not stalking her friends), eating sushi (Yoshi Sushi in Martinsville is her favorite), and facetiming her friends constantly. John is convinced she was born in the wrong decade because of her love for Bon Jovi. When she was growing up, she played soccer competitively and recently got back involved with the sport, both playing in her own league and assistant coaching an elementary girls travel team. She loves all animals, especially baby elephants and lion/bear cubs. Her favorite thing to do is settle into the couch with a good movie, John and the pups with the fireplace going while Sunday Sauce is cooking.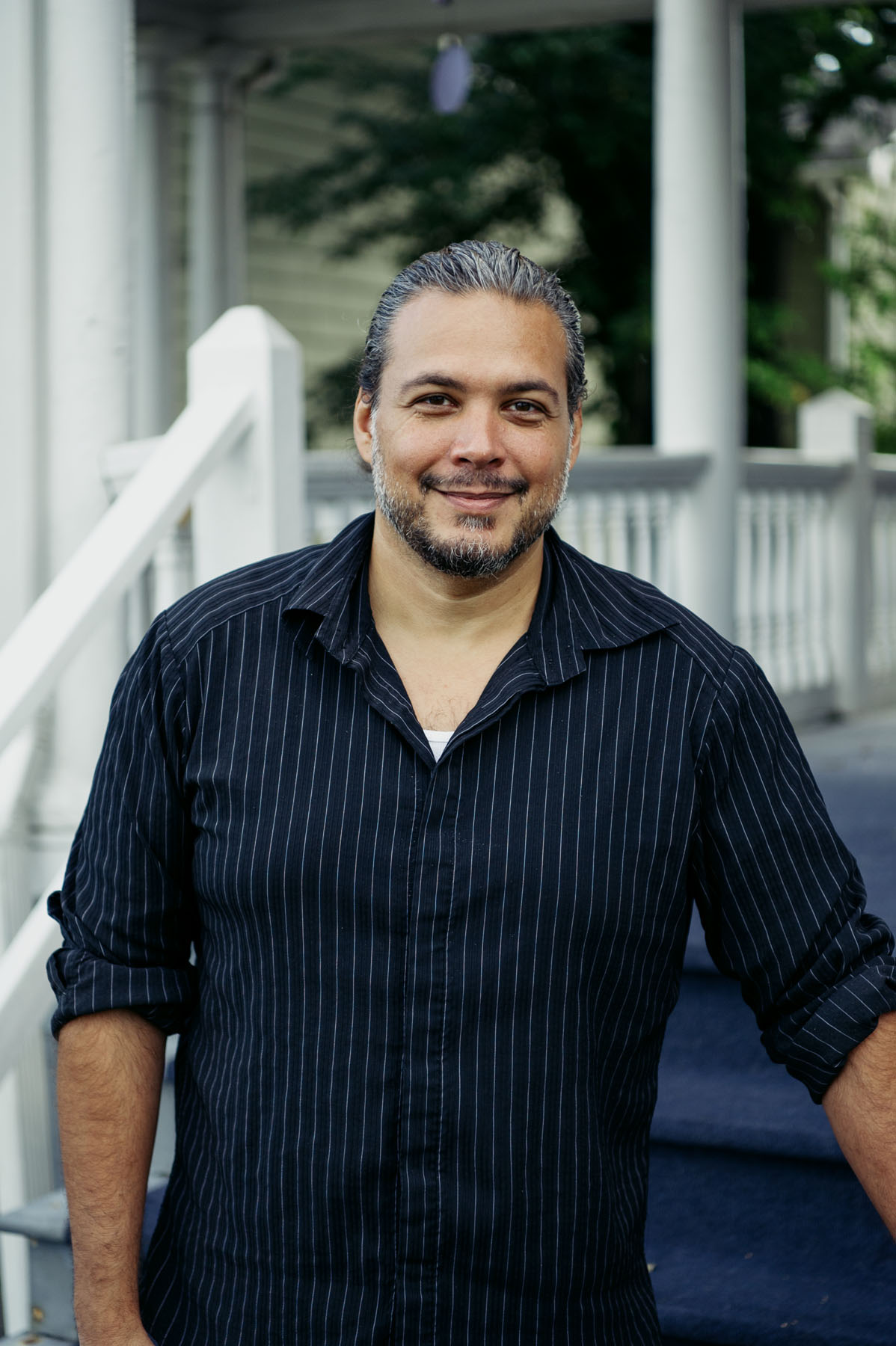 JASON MARCHITTO
LPC, LCADC, ACS. Therapist & Blueprint Clinical Advisor
Meet Jason
Jason Marchitto received his undergraduate degree in sociology and psychology from the University of Arizona. Upon returning to NJ Jason completed his MA in clinical counseling psychology and from there proceeded to become licensed as a licensed professional counselor. Jason began his work at an outpatient partial care agency as a group facilitator and clinical specialist/case manager for the adults suffering with addiction and severe and persistent mental illnesses. Working his way through a variety of positions, Jason ultimately worked as a clinical program director at an outpatient partial care facility for several years while starting to work in private practice. Looking for a change and a desire to help others directly, Jason left the agency in 2008 to work as a student assistance coordinator (SAC) in a public high school for the last 11 years. During this time, Jason also received his LCADC and certificate to supervise associate counselors.
In his work as a SAC, Jason is known as an advocate for adolescents dealing with a range of issues not limited to divorce, relationships and bullying to substance abuse, and mental health issues. He applies his personal wealth of knowledge from life experiences and his training to approach his clients from a person-centered empathy based style while applying the concepts of CBT and essential humanistic compassion. Jason also has a deep understanding of the treatment for anxiety disorders and the use of ERP applied to the less understood subtypes/manifestations of OCD ("Pure-O" obsessions and mental compulsions).
When not working as a therapist, Jason enjoys simply enjoys good food, good movies, being around friends and spending time at home with his wife and children.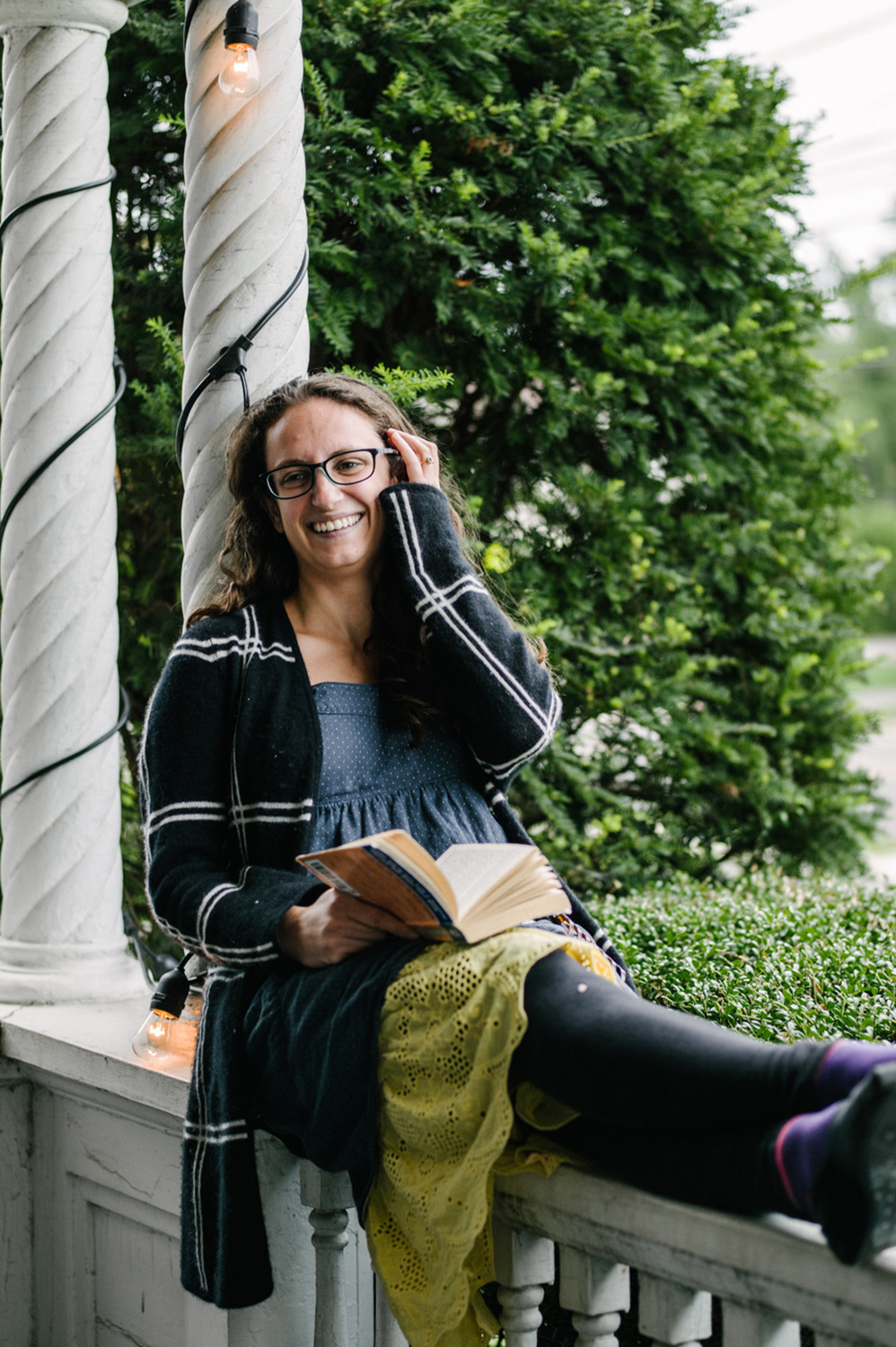 LEAH BEHAR
LCSW. Therapist, "Littles" Clinical Advisor & Blueprint Architect
Meet Leah
Leah is a child, pre-teen, and adolescent therapist who has been working in the mental health field for the past five years in both inpatient hospital and intensive outpatient settings. She specializes in working with children on the younger side who are struggling with various issues including social skills, communication skills, and general coping skills. She loves to work with families and be part of their process in helping them better understand their child and their behavior. We have seen her work what seems like magic with children and their families; but in reality, it's just incredible clinical work. She is an incredibly gifted therapist with a very unique (and we think quirky) personality, earning her the title of "The Magician with the Littles".
She is an avid gardener and enjoys being outside during warmer seasons, or crafting and watching movies during the colder months. We are excited to bring her gardening skills and infectious laugh to Blueprint.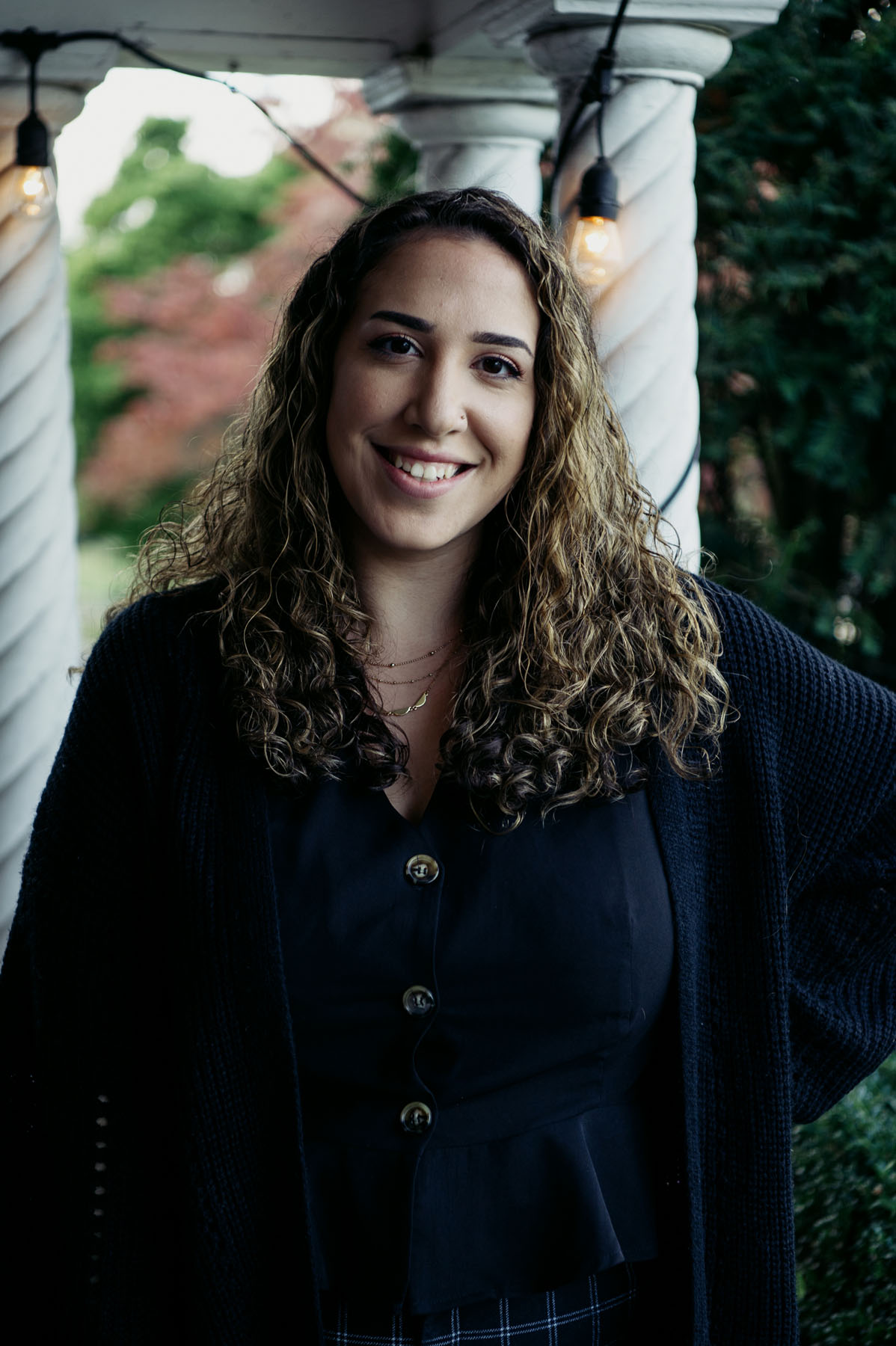 CARLY ANZALONE
LCSW. Therapist
& Blueprint Client Concierge
Meet Carly
Carly is a preteen and adolescent therapist who has worked in a variety of mental health settings over the past four years including inpatient rehabilitation, partial hospitalization, and intensive outpatient programs. Carly earned her Master's in Social Work from Binghamton University and is a Licensed Clinical Social Worker. Carly spent some time working in the substance use disorder field and noticed that many of the deeper-rooted issues that her clients were dealing with had stemmed from childhood. She decided to shift her career to working with children, teens, young adults and adulting adults in order to play a role in early intervention, helping to build coping skills and gain support earlier on in their lives. Carly has worked with pre-teens and adolescents struggling with a variety of issues such as depression, anxiety, social anxiety, family and peer conflict, suicidal ideation and self-harm, gender identity and LGBTQ-specific issues, and more. Carly believes that each client is unique with their own specific needs and challenges, and reflects this in her therapeutic work. Carly takes a very warm, supportive, and understanding approach while also empowering clients to identify their own strengths and utilize them to achieve their goals. Carly pulls from a variety of treatment approaches including cognitive behavioral therapy, dialectical behavioral therapy, structural family therapy, motivational interviewing, and even art therapy!
Carly is originally from Syracuse, NY, and moved to New Jersey right before COVID hit, so she is still enjoying exploring the area, trying new local restaurants, and going on scenic hikes. Carly also enjoys spending time with her new golden doodle puppy Willow, who may make appearances in the background of any telehealth sessions!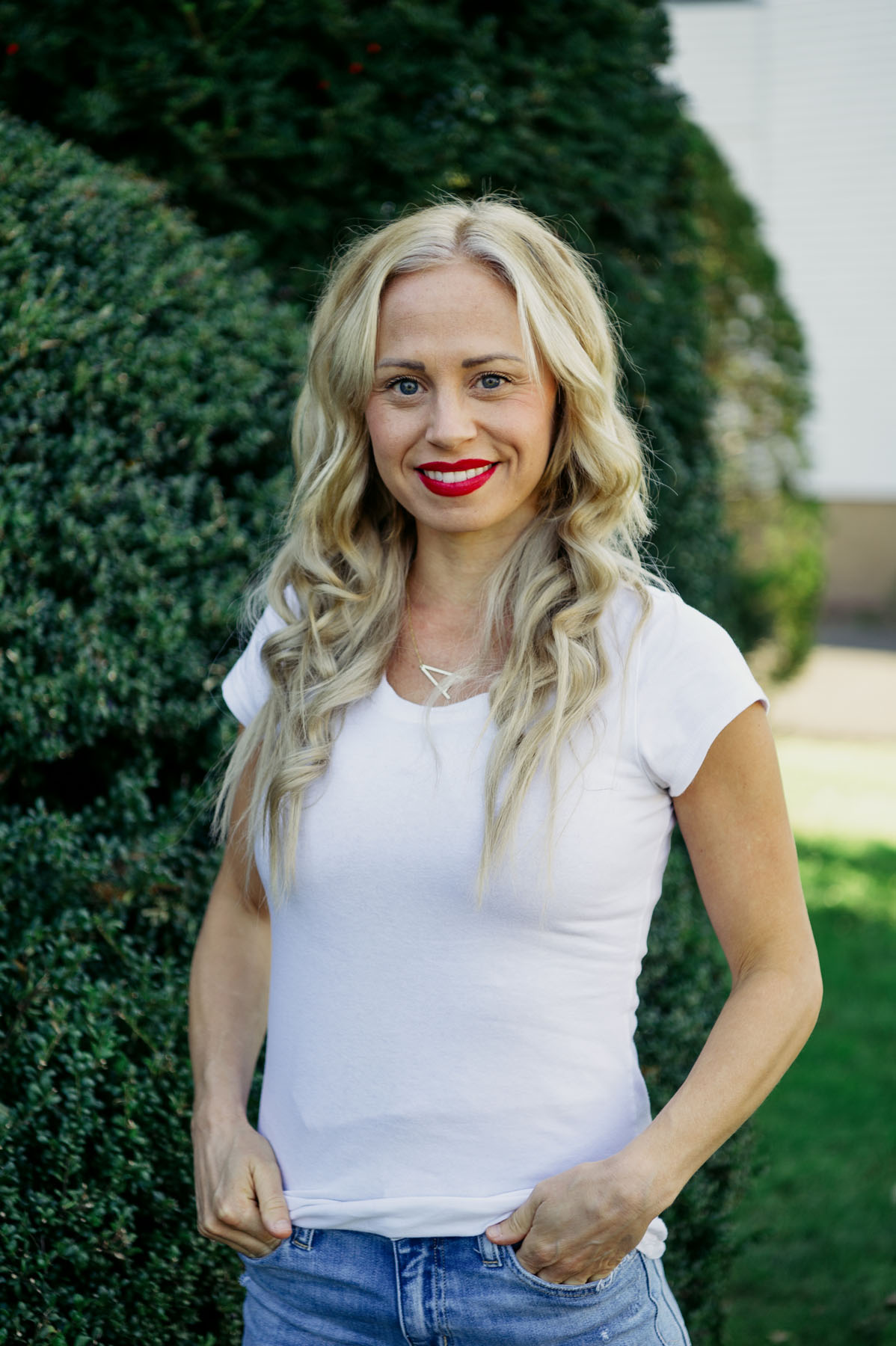 SARAH FROST
LCSW. Therapist
Meet Sarah
Sarah works with children, teens, and young adults. She has experience in the field in numerous intensive treatment facilities, including residential and partial care programs for young adults and adolescents. She specializes in Dialectical Behavior Therapy and Cognitive Behavioral Therapy that focuses on exploring her clients past and present thoughts and behaviors. Her goal is to help her clients develop confidence in how to cope with the world around them. She additionally specializes in maternal mental health, including postpartum depression and anxiety, and prenatal depression and anxiety. Sarah brings a variety of experience into Blueprint in addition to her contagious positive energy and sense of humor. In her spare time, she likes to take her son (her mini-her) on the swings, go for jogs, and play with her adorable dogs. Clearly, we are all animal people at Blueprint.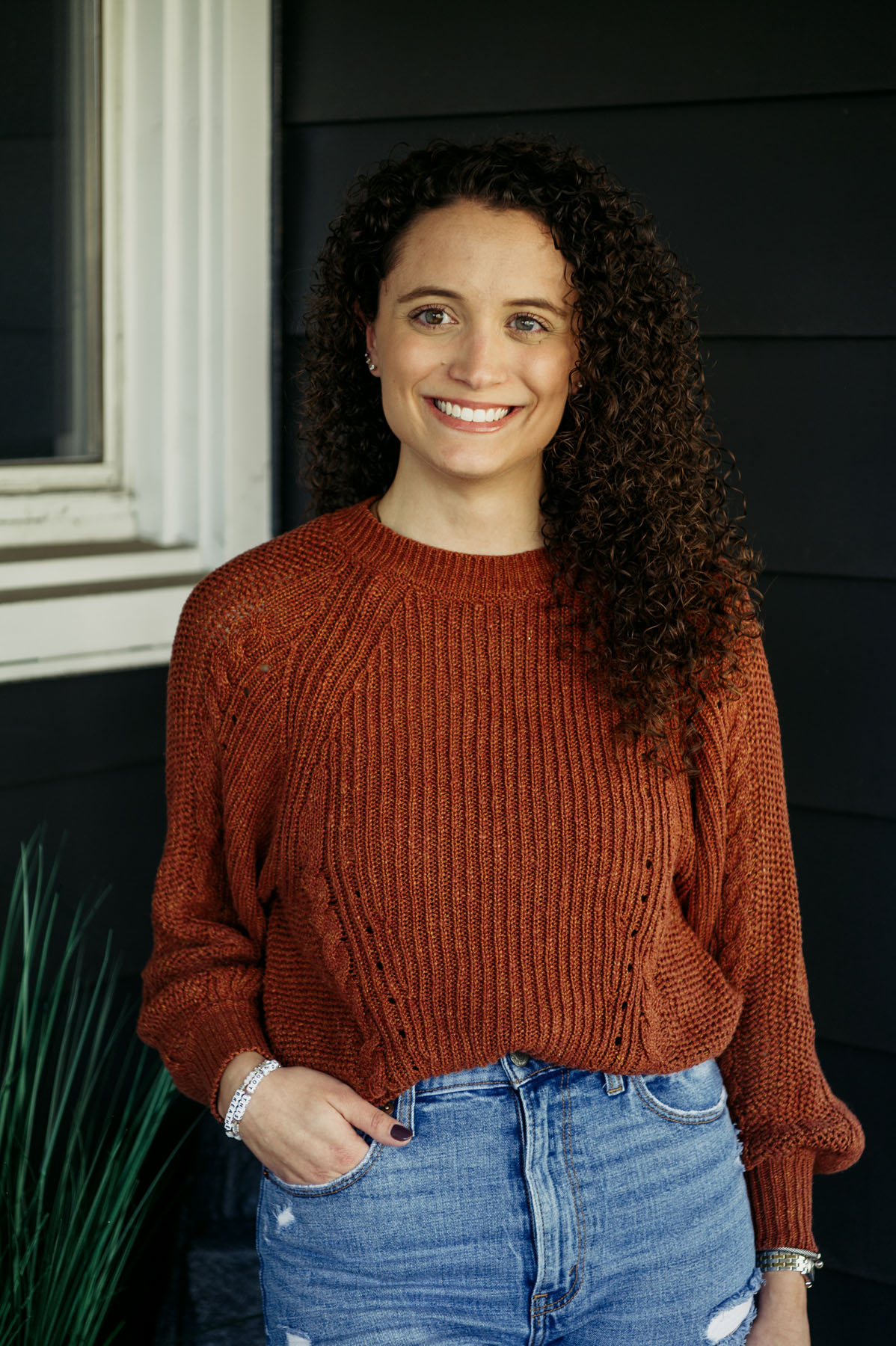 LINDSAY ALVAREZ
LPC, Therapist
Meet Lindsay
Lindsay earned her Master's degree in Mental Health Counseling from Caldwell University, following a Bachelor's degree in Psychology and Sociology. She is currently a Nationally Certified Counselor as well as a Licensed Associate Counselor, working towards becoming a Licensed Professional Counselor (in a few short months). Lindsay has experience working with children, adolescents, and adults in the partial care and intensive outpatient settings. She feels privileged to be a trusted part of each person's personal healing process and notices that every person's process will be unique. She has an eclectic approach to therapy, pulling from many different modalities (DBT, CBT, Solution Focused etc…) and feels strongly that there's no "one size fits all approach" to counseling. This ensures that each client will receive a specialized treatment that's unique to them. Lindsay is passionate about working with people throughout their therapeutic journey and encourages them to find the strength to grow, develop, and achieve their personal goals. In her free time, you can find Lindsay trying out new restaurants with her fiancé, playing with her pup Zoe or relaxing with family and friends!
TAYLAR KELLY
LSW, Therapist
Meet Taylar
Taylar is a Licensed Social Worker working primarily with children, tweens, and teens with us at Blueprint. (Although from time to time, she sneaks in occasional young adults.) She graduated with her Master's in Social Work from Rutgers University with a certificate in Promoting Child and Adolescent Well-Being. She is naturally down to earth and easy to talk to, which allows her to build connections with kids and teens that might not be….let's say "excited" for therapy. She specializes in normal life challenges/adjustments, depression, anxiety, grief and loss, body image, and establishing healthy boundaries. In a world where insecurities run wild, she is especially passionate about supporting clients in building their self-esteem. Her sessions include interventions and techniques from CBT, play, and creative arts therapy. For "littles", Taylar combines a creative lens with attachment-based techniques to create a safe, judgment-free space to explore big feelings. She has worked in various school settings and residential treatment programs and has always felt passionate about empowering clients. When she's not at Blueprint, you'll find Taylar playing darts (yes, darts!), obsessing over dolphins and sea turtles, playing with her families Boxer pup Zucc, eating penne vodka or pierogies, and unwinding by listening to good music.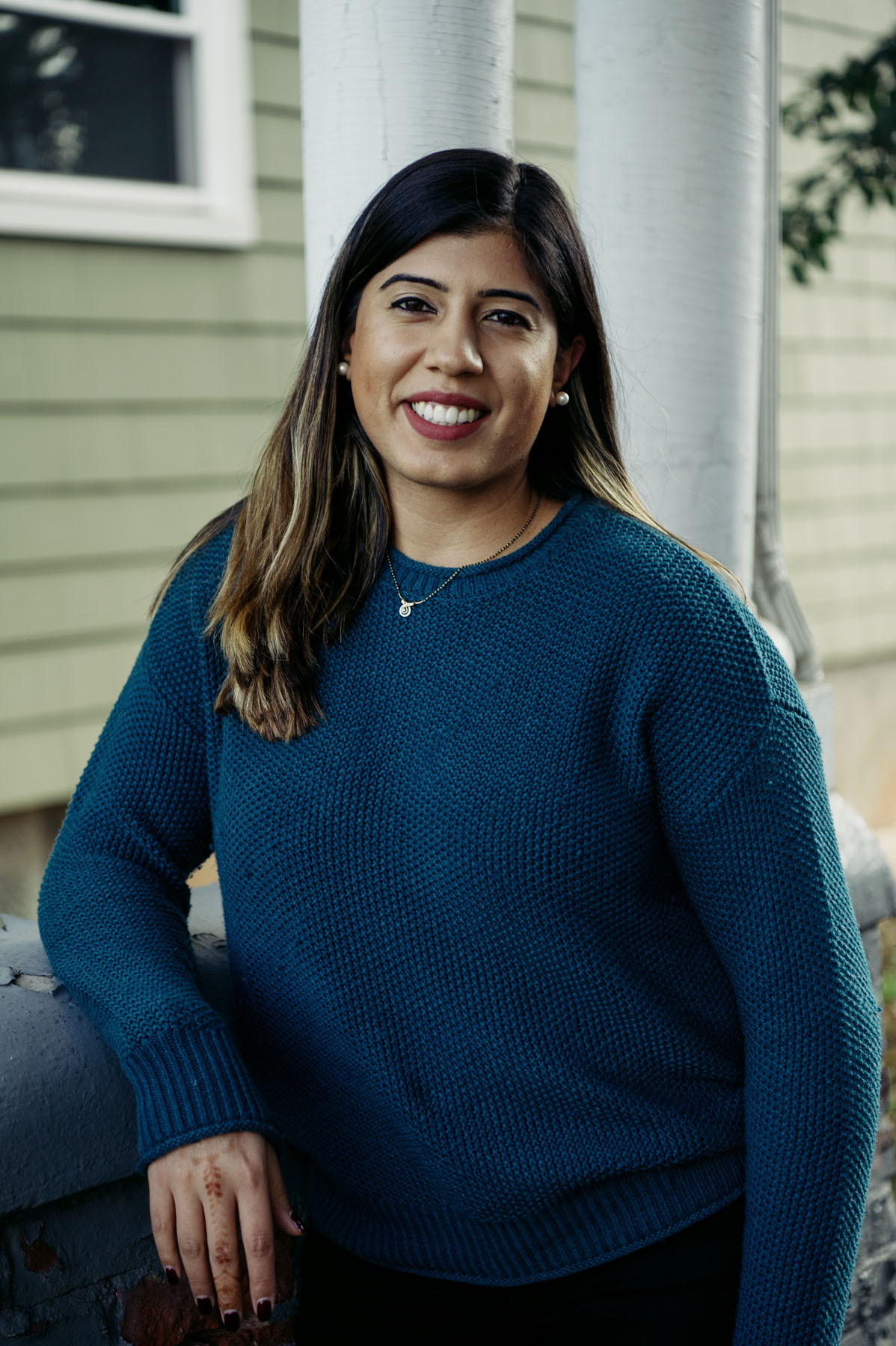 SURBHI VYAS
LPC. Therapist
Meet Surbhi
Surbhi has been a school counselor since 2015 and is the newest member of the Blueprint Family. As a Licensed Professional Counselor, Surbhi specializes in adolescents suffering from anxiety, depression, grief and school phobia. Our youth today receive more stimulation from social media and other sources than previous generations and it is often overwhelming to manage and feel in control. Using cognitive behavior therapy and mindful meditation, Surbhi is able help her clients gain new skills and confidence in taking one step closer to a healthier mind.
During Surbhi's "Me Time," you will find her breaking a sweat at the gym, watching "The Office" or finding another piece of décor that has either an elephant, pineapples or palm trees on it, oh and pizza is her weakness!
HELEN SANTANA
LSW, Therapist
Meet Helen
​
Helen Santana earned her Master's in Social Work with a clinical specialization from Rutgers University, following receiving bachelor's degrees in psychology and social work. Prior to receiving her LSW and completing her degree, Helen spent two years at Blueprint within the Client Relations Team.
Helen has always had a desire to be an emotional support as well as advocate for those in need. She incorporates therapeutic skills, psychoeducation, and a client-centered approach to help adolescents, teens, and young adults cope with challenging events in their everyday life. Helen also uses a multimodal approach with her clients including pulling from CBT,  trauma-informed care, mindfulness, solution focused, etc. Helen sees each client as unique in their experiences and tailors her therapy sessions to meet each client's individual needs. Being bilingual herself, Helen also believes in using a multi-cultural inclusion approach when working with clients and their families. She believes in empowering her clients to help them feel confident in who they are and in their mental health journey! 
When not at Blueprint, you can find Helen playing with her dog Stella, dancing, at the gym, or trying out new restaurants with family and friends!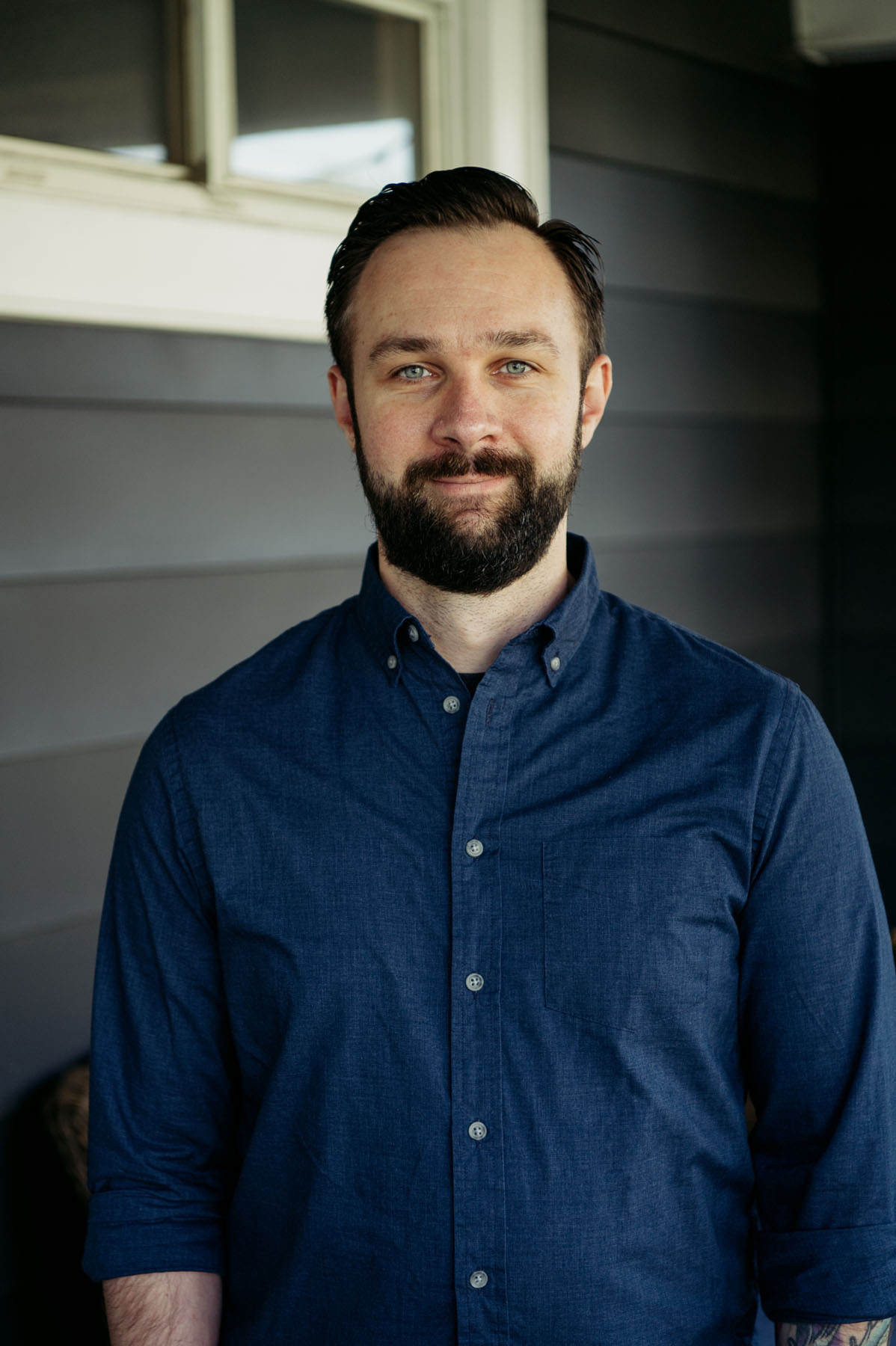 SCOTT SHANLEY
LAC, Therapist
Meet Scott
Scott Shanley is a Licensed Associate Counselor who earned his master's degree in clinical mental health counseling from Kean University, specializing in helping teens, young adults, and adulting adults reach their mental health goals.
Scott found his way into counseling after a multi-year career in the television industry that was full of excitement, adventure, and novelty, but ultimately left him searching for more balance, meaning, and purpose in life. This search led to spending lots of time in the psychology aisle at Barnes & Noble reading about mental health, and he eventually became well-versed enough in the topic to get into grad school and officially make his passion his profession.
Scott's approach to counseling blends elements of mindfulness, CBT, ACT, and DBT. In other words – exploring the inner workings of our minds to understand the role our thoughts play in creating our emotions, behaviors, and shaping our overall experience of the world.
While empathic, compassionate, and truly understanding of his client's challenges and experiences, Scott is not just a "listener" – he is equally adamant about equipping his clients with tools they can bring to their everyday lives to surf the waves life throws at them.
Outside of sessions, Scott enjoys being active outdoors (fun fact: he once whitewater rafted the Grand Canyon), reading and writing, watching pro wrestling (AEW/WWE), and catching up with friends for the occasional horror movie marathon! He grew up playing the drums in heavy metal bands (fun fact: Tool's "Lateralus" album was his initial inspiration to become a therapist one day) and swears he's going to pick up his sticks again one day, much to his neighbors' collective disappointment.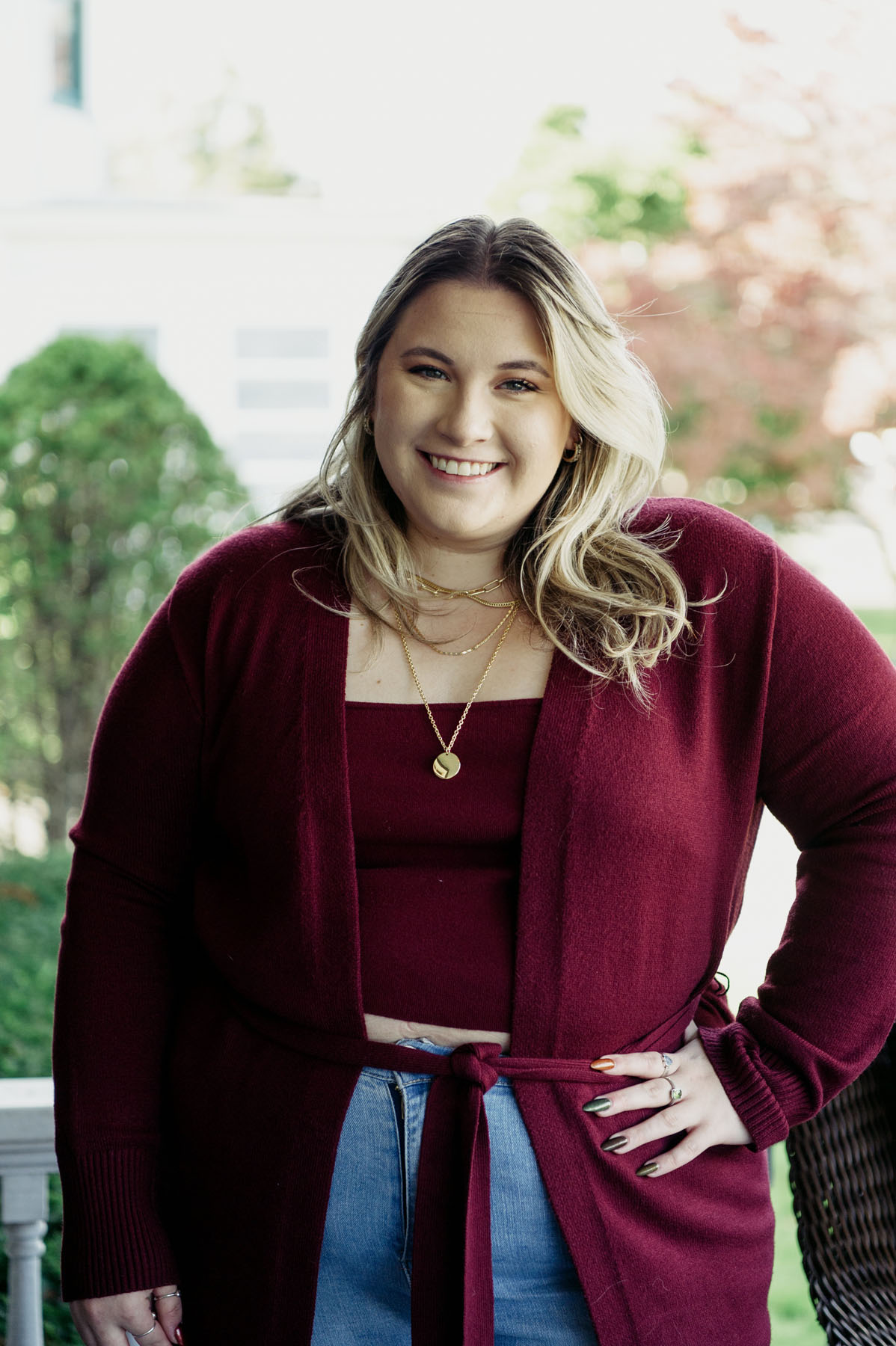 SAMANTHA ZELNOCK
Blueprint Practice Administrator & Lead Client Relations Specialist
Meet Samantha
Samantha Zelnock is a graduate student currently enrolled in a dual clinical mental health and rehabilitation counseling program through the University of Alabama. She received her bachelor's degree in psychology at the University of Rhode Island. Sam has always had a strong passion for helping others around her, due to having a mother who taught as a special education teacher. Her goal is to be able to integrate mental health counseling, education, and advocacy in a form of disability inclusion – mental health inclusion. She believes that education can help fight the stigma that surrounds mental health/illness. Her dream is to open up her own counseling center just like Blueprint! If you can't find Sam here you can find her at your nearest shopping mall, beach, or playing with her dog, Quinn (can you tell we are dog people around here). She also loves to cook and be on the hunt for new cool food places. But don't worry she will always be here for you at a drop of a shopping bag!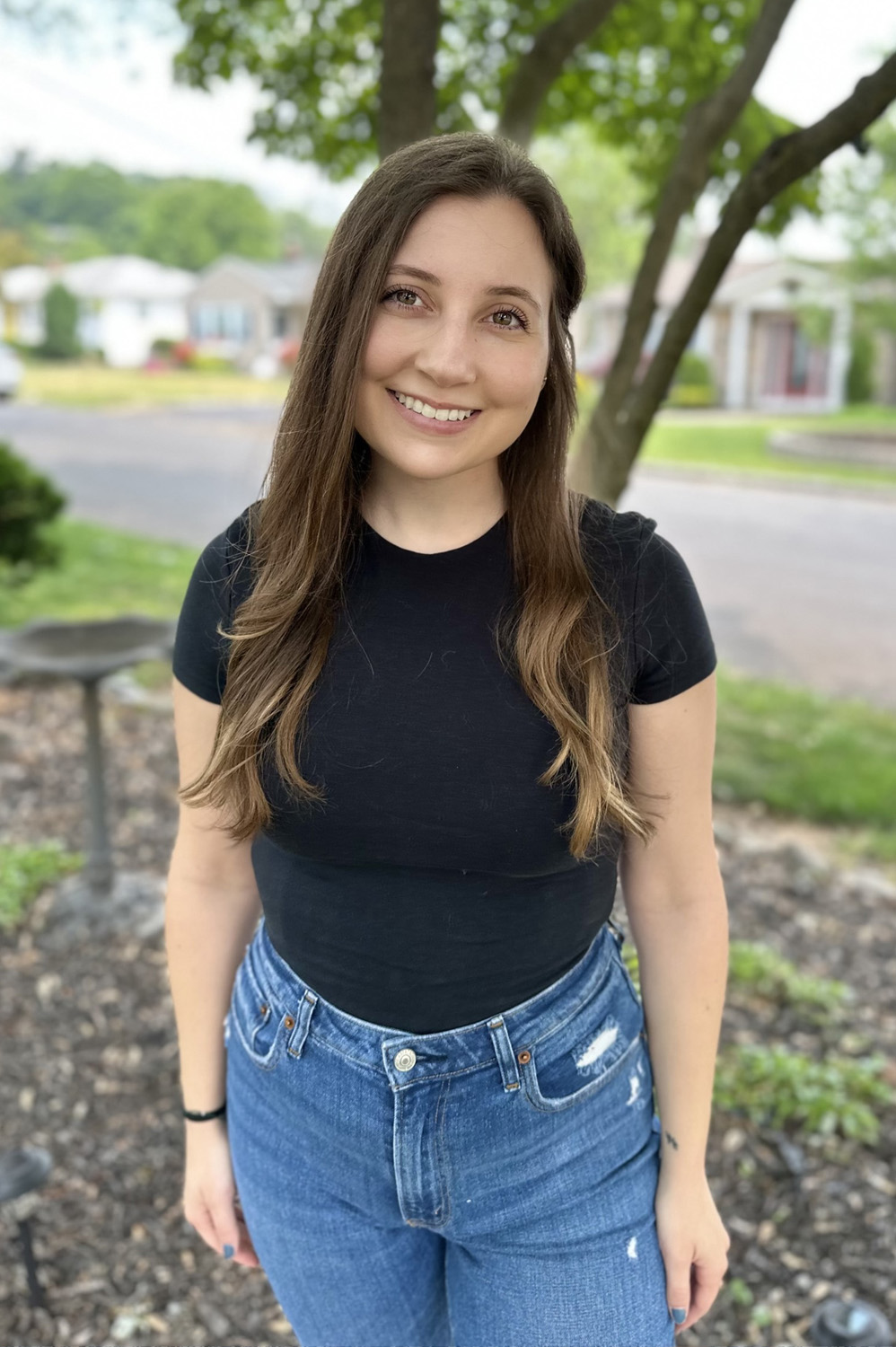 NICOLEA (NIKKI) SUTOR
Client Relations Specialist
Meet Nikki
Nicolea (Nikki) is the newest member of the Blueprint Family! She is a member of the Client Relations Team so just might be one of the first people you speak to when you reach out to us at Blueprint. She is a current graduate student enrolled in the extended social work program at Kean University and obtained her bachelor's in psychology through Kean University as well. She has always had a passion for helping others and has a natural warm energy that helps people feel comfortable opening up to her. Nikki believes that advocating for those who are vulnerable is extremely important. Once she graduates, her goal is to obtain her license as an LPC and become a licensed mental health therapist. When not at Blueprint, you can find Nikki rescuing wild animals, reading Colleen Hoover books, attending concerts, spending time with family and friends, teaching her dogs new tricks, cooking, or hiking.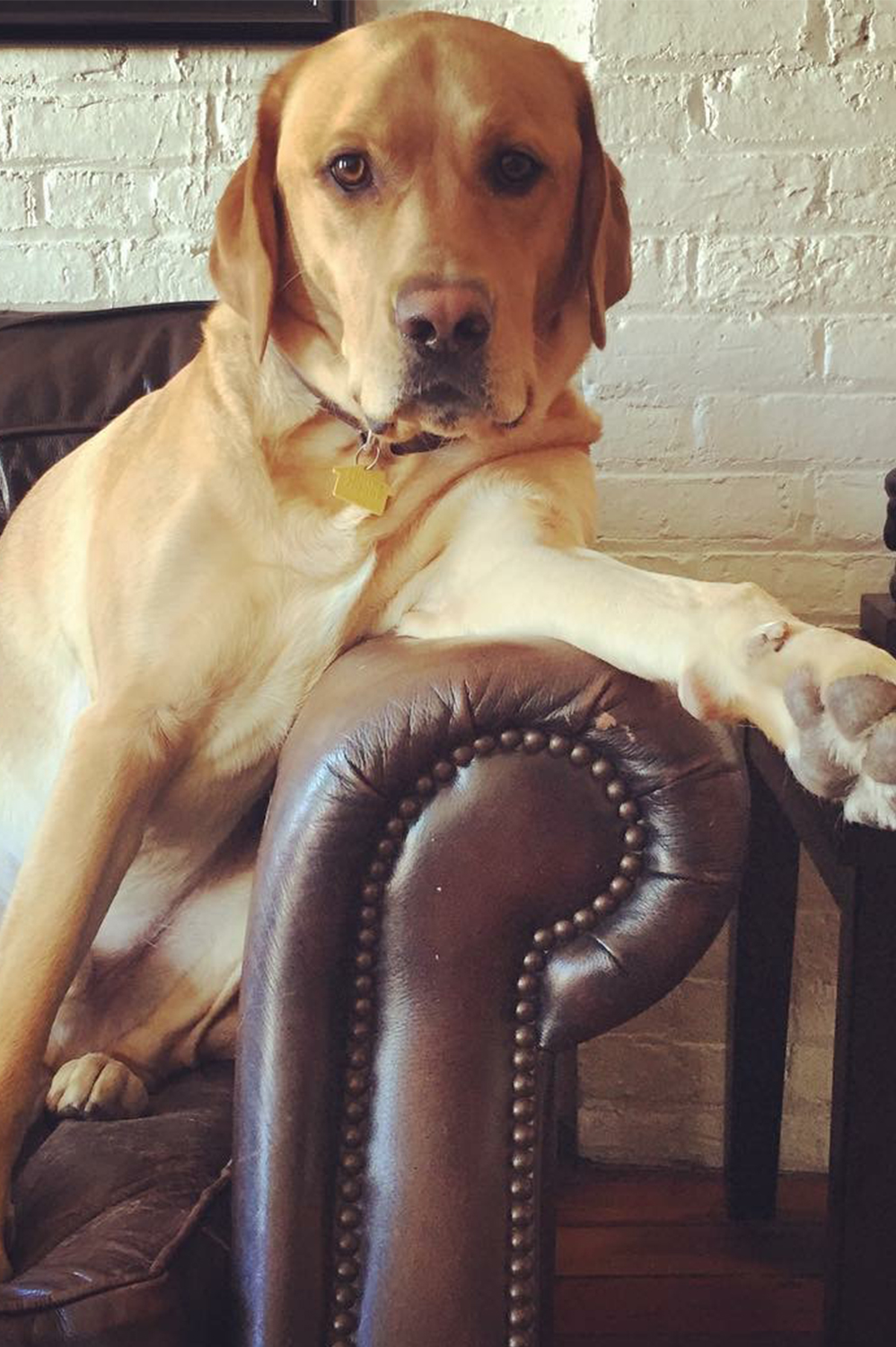 Meet Toby
Hello, humans. My full name is Tobias Chad Mopper but my friends call me Toby. I am a three-year-old "American Yellow Lab", and Blueprint's Therapy Dog In Perpetual Training. See there is a difference between American and English Labs. English labs are shorter and stockier than I am. As an American Lab, I am taller, leaner, and according to everyone I meet, "such a beautiful dog" (You may have already thought that when you looked at my bio picture). My humans John and Michele own the place, which allows me to be at Blueprint whether I have my therapy dog certification or not. It's not that I'm not capable of passing the test, I just refuse to conform to their fascist policies and what a "good therapy dog" should be like. In my spare time, I love hanging with my baby kitten sister Penny (she was an accident), Monday nights (steak nights), kickin it with my homies at the dog park, posting my thoughts on our Instagram, and invading my human's personal space. All kidding aside, my number one favorite thing in the world is putting smiles on people's faces, especially when there are treats involved. Look forward to seeing you at 73 West End.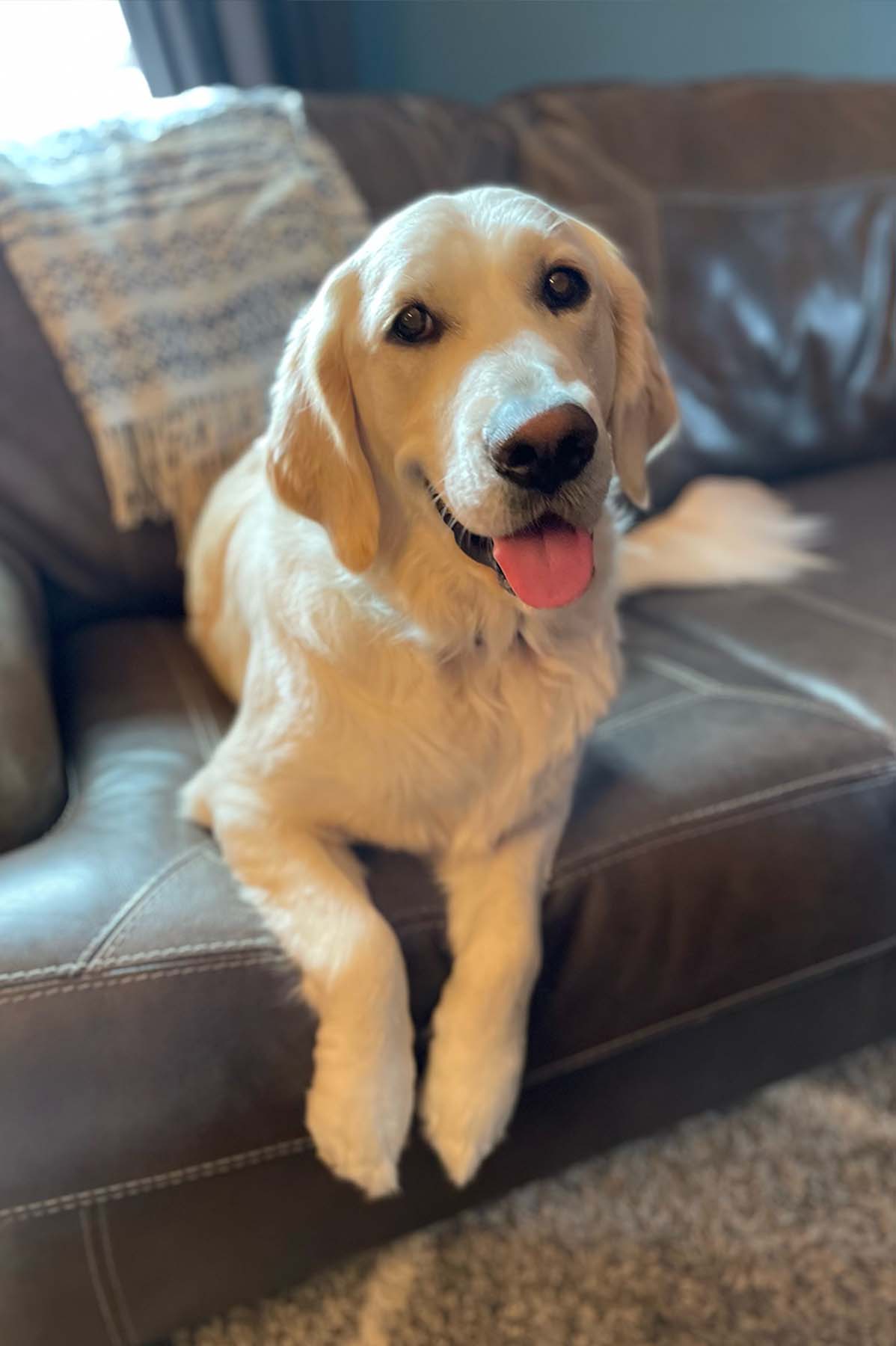 CHARLIE BLUE
Blueprint Mascot
Meet Charlie
Hi guys! My name is Charlie Blue and I'm the newest addition to the Blueprint Fam. My mom and dad, who are the owners of the practice, are those people that you might have heard about that decided to get a dog during quarantine. Because they have been home with me every day since the day I came to my forever home, I am constantly in desperate need of human interaction and snuggles. When I'm not busy warming the hearts of all who come in contact with me or posing for my personal Instagram account, I enjoy chewing on my big bro, Toby's ears, following my mom everywhere she goes and pimping myself out for belly rubs whenever possible. I really hope that I get to meet you soon over at 73 West End so that we can become friends forever.